This article aims to describe the reality of the inclusion of students with special educational needs from an interview with three students
This work was developed from a research based on authors who discuss assistive technology in the Education of the Deaf, this objective
This article has as its main purpose to analyze and present research conducted through references to support
Often we encounter in our daily lives with a not too common situation: two deaf people talking, making use of sign language
. The inclusion of deaf students in public schools has been discussion among many teachers, because in General, they say they have not received
Autism is a behavioral syndrome, having as main feature the deficit in social interaction, translated primarily by the inability in interpersonal relations, along with a shortage of language and behavior changes.
Psychoanalysis can be linked to education to treat existing relations in the school context, we know that such relationships do not always contribute to effective learning.
The professor, from the beginning of his academic training, must understand the limits of their students, helping them to overcome them. Within the discipline of physical education, several obstacles may arise, being part of the educator to stimulate his students, mostly in individual development.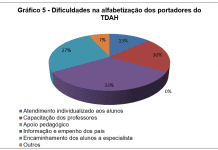 The role of the family, school and teacher it is essential to include the child bearer of ADHD.