The Amazon represents the largest collection of tropical forests in the world, with great diversity of flora and fauna and occupies approximately 7,000,000 square kilometers, in North-Central South America.
Of course Rico environment and very productive, biologically, with large areas of mangroves, estuaries, rivers and tropical forests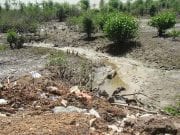 Industrial process and the consequent demand for consumer goods, automatically increases the generation of municipal solid waste.
QUEIROZ, Kristian Oliveira de QUEIROZ, Kristian Oliveira de - Creation and Globalization in context: a reading of Tefé in the Amazon - Multidisciplinary Core...